Hey everyone,

So I've totally forgot to do this post... I was meaning to do this a few weeks ago when I originally brought everything :( but its better late than never!

So during half term which was a little while back now, I seemed to have accumulated quite a lot of clothes, jewelry etc. I thought I'd show you what I got because I love looking at other blogs and youtubers to see what they get too.
Lets delve into it...
My dress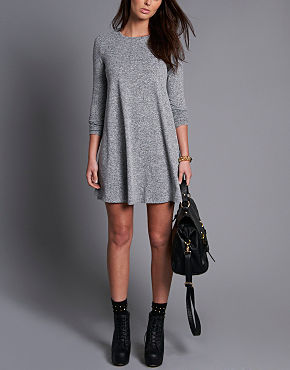 The dress online on a model
This first item of clothing above was from bank fashion and is such a simple piece that you can basically pair with anything! It's a grainy grey colour that is so soft to touch and very comfy to wear. Its an oversized dress that is perfect to wear slouching around or just add some rings and a necklace and you're ready to go out and about. p.s. it was £23.00
This next item of clothing I got was such a bargain...only £15.00!!! It was from H&M and I love it!!! It has a lovely almost quilted texture on it and although it might not like it in my pictures... its also very fitting.
Then I also brought a pair of plain black skinny jeans from H&M which were only £7 or £8!
Then I brought these shoese above for yet again a bargain of only £7! They are so cute on and remind me of old fashioned school shoes :) They're also really to pair with an outfit to make it dressy.
Then I brought this floppy hat above for around £13-£15 which I intend to wear in the summer or when the weather gets nicer which... fingers crossed will happen.
Then I just got some basic knitted tights in this burgundy/purple colour that I can wear with just about anything to keep me warm and cosy.
These final items are the jewellery and some beauty bits I brought:
The first jewellery piece I got was this link bracelet from accessorize for £5... I love the coloured strap of this bracelet which is what drew my eyes to it in the shop and also, the colour of the links is almost edging onto a rose gold colour and I love rose gold anything!
Then I brought some midi rings...
The one of the left is a tiny little diamante bow that gives a little girly accent to your look and to the left is something a bit more edgy. They are both gold and the ring on the left is almost like two rings stacked but joint together with a little bar in the middle. I love to stack up my rings to add a bit of glam to a casual outfit and also... river island sell midi rings for only like 2 or 3 pounds!
And finally... I brought some new mascaras to try out and I am very impressed with both and currently use the collection volumizing mascara on the left in the coral packaging because it doesn't transfer throughout the day at school or in the weekends because its waterproof.
Thank you for reading... I hope you enjoyed this post, tell me what your favourite item is out of this or tell me what you've brought recently that you'd recommend!
(p.s. sorry for the angles of the photos... I haven't yet found a good way of photographing items for my blog)